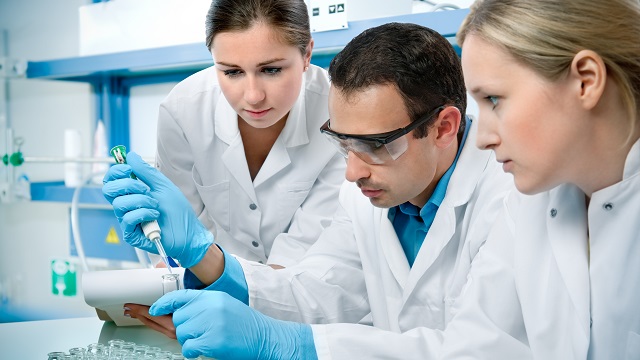 Patient contact
As a student, there is no substitute for clinical practice. In London's medical schools trainee doctors have access to millions of patients. Such unrivalled patient access attracted Sarosh Khan from Saudi Arabia to study medicine at St George's, University of London whose campus is located on the same site as one of the UK's busiest hospitals.
"Medicine is brilliant, but at St George's the way it's delivered makes it even more enjoyable. With the hospital on-site we get to see a lot of patients." Sarosh also gets to improve his clinical skills with placements in other hospitals as well as working in laboratories where he can use the latest patient dummies.
Excellent teaching
Teaching in London is also less structured than in some countries with the focus on learning rather than cramming for lots of exams. Yerzhan Rakhimov, a medical student from Kazakhstan, has been inspired by the teaching at University College London so much so that when he graduates he hopes to work in medical education. He said, "Here the style of teaching is much more free, not controlled. Back home it was much more structured. Here I have less stress."
Yerzhan's enjoys modules that use problem-based learning and teamwork, encouraging him to think laterally and listen to the different perspectives of his fellow students. "I feel at home here. People are friendly and my teachers are always available if I want to speak with them."
Ground-breaking research
In addition to being a world-class centre for teaching, London also attracts some of the best researchers in the medical profession. At Imperial College London's Faculty of Medicine there are over 1,500 researchers with an annual research budget of over £140 million. Such investment enables researchers to become leaders in their fields while tackling some of the world's biggest health threats.
At King's College London, research teams are busy translating ground-breaking research into patient benefits for the population of London, one the world's largest and most multicultural cities. The city's diversity gives students a greater understanding of the health challenges facing different communities. It also brings opportunities to observe medical problems which have a global dimension, and to meet people in clinics, general practices and hospitals from a wide range of cultures.
London is also home to world-class specialist institutions such as the London School of Hygiene and Tropical Medicine where researchers are undertaking collaborations with over 100 countries to help improve the health of people all over the world. At the world-renowned Institute of Cancer Research, researchers are busy building on a legacy of ground-breaking discoveries that have included the identification of the suspected link between smoking and lung cancer as well as the recognition that a DNA malfunction is the basic cause of cancer.
London is a city of constant discovery and is always evolving. So it is no surprise that the city and its medical schools are the perfect home for aspiring doctors and researchers who want to make a real difference to the lives of people throughout the world.