Study medicine at a top London university and you will benefit from being taught by internationally renowned staff at some of the UK's most famous hospitals.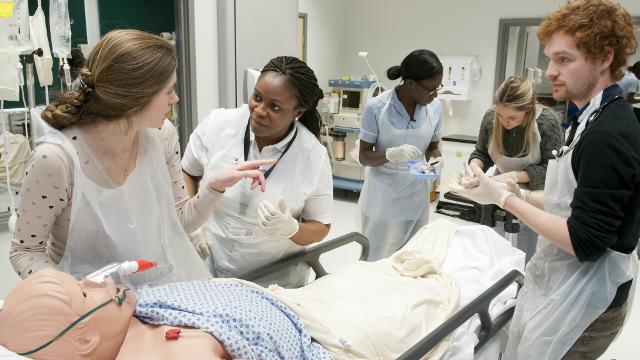 London has been a centre for medicine for hundreds of years. DNA, penicillin and the use of robotics in keyhole surgery are just some of the major medical breakthroughs discovered in the capital's medical schools.
Today, the city continues to push the boundaries of science. There are a staggering 40,000 doctors, researchers and medical professionals trained in London each year and the city undertakes 70 percent of all NHS research in the UK.
Five medical schools are at the forefront of inspiring the next generation of doctors. Between them, the schools have links with all of the city's major hospitals.
In the 2014 QS World University Rankings, Imperial College London was ranked 2nd best university in the world. Imperial College's Faculty of Medicine is one of Europe's largest medical institutions with a staggering 1,500 researchers and academic staff and around 3,500 students across undergraduate and postgraduate degrees. Imperial works closely with major teaching hospitals across London, including St Mary's Hospital where Alexander Flemming discovered penicillin in 1928 and where recently, the use of robotics in keyhole surgery was pioneered.
UCL (University College London)
Described by the Sunday Times as "an intellectual powerhouse with a world-class reputation", UCL is consistently ranked as one of the top universities in the UK and worldwide. UCL Medical School is one of the largest in the country with a yearly intake of 330 undergraduate students on the MBBS programme and it has the widest range of intercalated BSc opportunities and also offers postgraduate programmes and clinical training. UCL Medical School is situated in the heart of London at three main campuses. UCL works closely with the city's hospitals to form the UCLH NHS foundation whose origins date back over 250 years.
King's is one of the world's leading research and teaching universities based in the heart of London. The Faculty of Life Sciences & Medicine is one of the largest and most successful centres for research and education in the UK. The Faculty is located at four central London campuses - Guy's Hospital Campus at London Bridge, St Thomas' Hospital and Franklin Wilkins Building at Waterloo and King's College Hospital in South London and offers over 80 undergraduate and postgraduate courses. King's is the largest centre for the education of healthcare professionals in Europe and has played a major role in medical advances including the discovery of the structure of DNA.
Queen Mary University of London
Queen Mary University of London is home to Barts and The London School of Medicine and Dentistry, which began life in 1785 as England's first medical school. It has since grown to become one of the country's leading medical and dental schools with 1,600 undergraduate and 750 postgraduate students. At the heart of the School's mission lies world-class research and the School has invested £100 million in state-of-the-art facilities. With an annual research income of £40 million, research is focused on translational research, cancer, cardiac, dentistry, inflammation, endocrinology/ metabolism, immunology and infectious diseases, genomics, neuroscience, gastroenterology, epidemiology and primary care.
St. George's, University of London
St George's, University of London is one of the UK's best-known specialist providers of medical and healthcare education. Students can gain clinical practice at St George's Hospital, one of the busiest hospitals in Europe located on campus. The hospital dates back to 1733 and many of its doctors became famous for their advances in medicine including Edward Jenner who pioneered the smallpox vaccine and John Hunter, known as the father of modern surgery. In the Times Higher Education Student Experience Survey (2010 and 2011), current students at St. George's were found to have some of the highest rates of student satisfaction in the country.
Medicine courses in London
List of MBBS courses offered in London
List of postgraduate medicine courses offered in London
List of all health related degree courses offered in London
Five Reasons to Study Medicine in London
London's hospitals see millions of patients each year and therefore provide the perfect environment for students to train as doctors. With London's universities considered amongst the best in the world, you will be a highly sought after graduate.
1. Variety of medicine courses
London's five medical schools offer students the undergraduate MBBS course, as well as over 100 postgraduate courses. MBBS courses can take 5 or 6 years. When completed in 6 years, students normally also receive a BSc degree which is completed in year 3. Postgraduate courses take between 1 and 3 years.
2. Patient contact from year 1
London's universities are closely linked with a variety of hospitals in the city. The hospitals in London see millions of patients each year with many different, and often unique, medical conditions. Clinical contact from early on in your degree is a key benefit of studying in London.  
3. An international perspective
London is a multi-cultural city with many different nationalities and ethnicities. By studying in London, you will be exposed to a wide variety of people which you might not have access to in other cities.
4. Global networks
With students from more than 200 nations studying in London, you will have the opportunity to create a global network of friends and future contacts that will last you a lifetime.
5. Experienced and Award Winning Professors
The city's lecturers, tutors and professors are internationally respected for their research and clinical experience. Many medical discoveries which has shaped modern life have taken place at London's universities, including the discovery of DNA and penicillin.