London is the world's international financial capital so and business courses are the most popular course choice in London. It's a great place to make new business contacts and get vital work experience for your CV.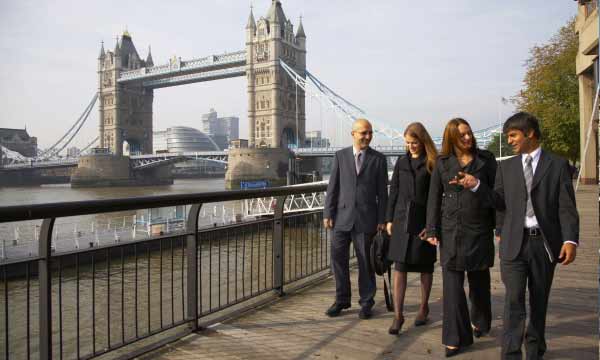 Best Business Schools in London
There are many universities and business schools in London where you can study business courses. They offer a wide selection of courses including undergraduate degrees, postgraduate masters, MBAs and PhD research programmes.
London's business schools consistently rank highly in a number of different business school rankings. The Financial Times European Business School Rankings 2014 and the Financial Times Global MBA Rankings 2015, amongst others, rank the following London business schools as world-class:
London Business School is ranked among the top five business schools in the world for its MBA programmes. The school offers a mix of masters and non-masters programmes to suit students and executives at every stage of their careers, from MBA to EMBA-Global, Masters in Management to PhD.
Set within Imperial College London, the world's second best university in the 2014 QS World University Rankings, Imperial Business School offers MBA, MSc and Executive Education programmes. The School has access to industry experts and the direct experience of major corporates, consultancies, investment banks, venture capitalists and public sector organisations make the teaching and research practical and relevant.
Set within City University London, Cass Business School is among the global elite of business schools that hold the gold standard of 'triple-crown' accreditation from the Association to Advance Collegiate Schools of Business (AACSB), the Association of MBAs (AMBA) and the European Quality System (EQUIS). The school offers undergraduate, MBA, MSc and PhD programmes.
London School of Economics and Political Science
The London School of Economics and Political Science (LSE) is a world-class centre, known for teaching and research across the full range of the social sciences, from economics, politics and law to sociology, anthropology, accounting and finance. LSE frequently appears in the top reaches of international and national league tables.
Other London universities offering business courses
A number of other London universities also offer business courses at undergraduate and postgraduate level:
Five Reasons to Study Business in London
1. Excellent universities and business schools
London has 11 universities in the Guardian's top 100 university rankings for business courses. The city also has more business schools in the top 100 of the Financial Times EMBA rankings than any other city, including four of the top 10 entries.
2. Wide choice of courses
Everything from Business Studies and Business Administration to Business Economics and Business Communication.
3. Boost your career
London degrees are recognised around the world. A London education on your CV will help you stand out from the crowd when you graduate.
4. Work placements
London universities have great links with the thousands of businesses in the city including the likes of Google, Morgan Stanley, GlaxoSmithKline. Many universities also give you the chance to work for one year in industry as part of your course.
5. Global networks
With students from more than 200 nations studying in London, you will have the opportunity to create a global network of friends and future business contacts that will last you a lifetime.