Over 12,000 students from China study undergraduate and postgraduate courses in London. Business and management courses are the most popular subjects for Chinese students followed by design, finance, engineering, economics and mathematics degrees.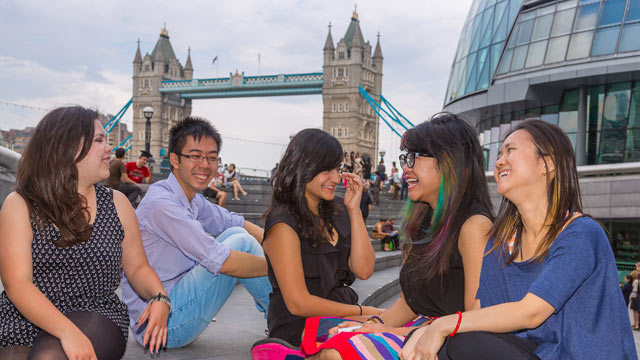 How to apply to a London university
Follow these three steps to start your application today.
1. Find a course: Our course search enables you to search over 30,000 courses on offer in London. Register with us to save your favourite courses and to contact universities for further information on entry requirements.
2. Prepare and submit your application: The application process differs for undergraduate and postgraduate degrees.
If you wish to apply for an undergraduate degree, you will need to submit your undergraduate application via UCAS (Universities and Colleges Admissions Service).
If you wish to apply for a postgraduate degree, you will need to apply directly to the university via their own online application system. Contact your chosen university to find out more.
3. Check you are eligible for a UK student visa. Read our information on the Tier 4 Student Visa to make sure you are aware of the requirements in advance.
China Entry Requirements at London Universities
Course application requirements can vary depending on the university and degree you choose. The information below is only a guide so be sure to check the entry requirements for your favourite courses. Remember, most undergraduate Bachelor's degrees in the UK are usually three year courses and postgraduate master's degrees are one year.
Undergraduate Chinese Students (First Degree)
Chinese National University Entrance exams are accepted by some universities although many of the top ranked universities will ask you to complete a foundation or access course. If you have taken A-Levels, the International Baccalaureate or Advanced Placement exams then you will be eligible for direct entry on to undergraduate courses at most universities.
Postgraduate Chinese Students (Second Degree)
Most universities will accept Chinese students who have already completed a first degree that is equivalent to a UK Bachelor degree from an established university. The grades you need depend on the course and university you are applying to.
Remember, you can contact the international office at your chosen universities and they will tell you if your qualifications meet the requirements of your chosen course.
Chinese Students Living in London
Outside of the lecture theatres there are lots of Chinese events and societies to enjoy.
Chinese New Year attracts hundreds visitors to London's China Town.
London Confucius Centre promotes Chinese language, teaching and culture.
Chinese Students and Scholars Association organises social and cultural activities for Chinese students in the UK.
London's Chinese Embassy is the official representative body of the Chinese Government in the United Kingdom.
London Chinese Cultural Centre is great for students who want to enjoy Chinese dance, theatre, film and shows.
400 Chinese businesses such as Industrial and Commercial Bank of China (ICBC), HSBC and China Telecom are also located in London.
There are also 80,000 Chinese people who permanently live in London and contribute to the city's welcoming atmosphere.
What London's Chinese Students Say
"London is the best-known city in the world, full of spectacular history and wonderful people. I chose London because the city really is one of the most amazing places in the world!"
Chao Liang - Finance and investment student from China
"London is the world's finance centre. I have not only enjoyed the active part of the city but also the special city culture: this is the only place where more than 300 languages are spoken."
Wang Qing - Financial and business economics student from China