Studying at a London university will be one of the most exciting times of your life. This application guide explains the application procedure for undergraduate courses in the UK. For more specific information, contact your chosen university.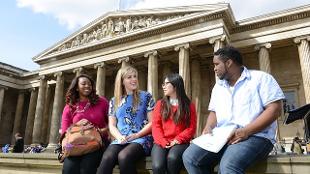 What is an undergraduate degree?
An undergraduate degree is also referred to as a bachelor degree. Undergraduate students study Bachelor's degree programmes that normally last for three or four years. Many courses offer a mix of academic and career-based study.
The two main distinctions of bachelor degrees are a Bachelor of Arts (BA) and a Bachelor of Science (BSc). The Bachelor of Arts is usually awarded in subject areas which fall into arts, humanities and some social sciences, while the Bachelor of Science is usually awarded for any science related degrees.
In addition to this, there are specific degree categories for some course such as medicine (MBBS), law (LLB) and engineering (BEng).
What are the requirements to study a bachelor degree?
Entry requirements will differ depending on the course and university you choose. In order to apply for an undergraduate degree in the UK, applicants are required to have successfully completed high school.
UK universities accept a number of different high school qualifications, such as A-levels, International Baccalaureate and Advanced Placements.
Additionally, universities accept high school qualifications from many countries around the world. However, the high school certificate from some countries are not accepted for direct entry into a bachelor degree in the UK. In this case, students need to complete an international foundation course (also known as pathway course) first.
Review our guide to entry requirements and contact your chosen universities for more specific information.
How do I apply for a bachelor degree in the UK?
In order to apply for a bachelor degree in the UK, applicants need to register and complete the application form on the UCAS website. 'UCAS', the Universities and Colleges Admissions Service, is the official UK government approved application service which is used by all UK universities.
A small number of universities allow international students to apply directly to the university. However, the majority of universities will only accept your application through the UCAS system.
How does UCAS work?
On the UCAS website, you can register and create your application. You will need to complete a number of different sections, including your personal details, educational qualifications, financial information and a personal statement.
The personal statement is a very important part of the application. It is your opportunity to tell the university why you want to study the course and what makes you suitable. Before you start, read our tips on writing your personal statement.
The application system is available online 24 hours a day and you can save your application and return to it as many times as you like before submitting it.
How many courses can I apply to on UCAS?
Most students can apply to five different courses. You can apply to more than one course at the same university, or to five courses at five different universities.
Students who wish to apply for medicine, dentistry or veterinary medicine can only apply to 4 courses. You can, however, choose a different fifth subject such as biomedical sciences.
Is there an application deadline?
Yes, there are important deadlines for you to consider:
15 October – for all medicine, dentistry and veterinary medicine courses
15 January – for most other courses
Many universities, especially the high ranking universities, will not accept applications after the UCAS application deadlines. However, some universities do allow international students to apply after the deadlines. Please contact your chosen university if you wish to apply after the stated UCAS application deadline to find out if your application will be considered.
If you have missed these deadlines, there is another option for you called UCAS Clearing. The UCAS Clearing process takes place in August every year. At this time, universities open up all their remaining places. If you are still looking for a place on a bachelor degree in August, visit the UCAS website to find a place on a course.
Do I need to take an admissions tests?
A number of universities require an admissions test for medicine, dentistry and veterinary medicine, either the UKCAT or the BMAT. Some universities also require an admissions tests for Law, called LNAT.
Make sure you understand the entry requirements set by your chosen universities. If an admissions test is required, you will need to take this before you submit your application on UCAS.
Is there an application fee?
The UCAS application fee is £12 for a single course application or £23 for multiple courses.
What are the funding options for undergraduate courses?
There are three main funding options for bachelor students: 
Self-funded: The majority of students pay their own tuition fees to complete a bachelor course. You can use the course search to find relevant courses and to see the tuition fees. 
University scholarship: Many universities in London offer part scholarships for international undergraduate students. Use the scholarships database to see which scholarships are available at universities in London.  
Other sources of funding: A number of countries operate student load and government funding schemes. Contact your local higher education authority to find out about the funding options in your country.  
How to start your application?
Search the course database to see which universities offer undergraduate programmes in your preferred subject area.

Check the Tier 4 visa requirements to ensure you are able to apply for a visa to study in the UK.