Studying for a masters degree in London brings many advantages. Most masters courses are one year in length, allowing you to enter the working world sooner.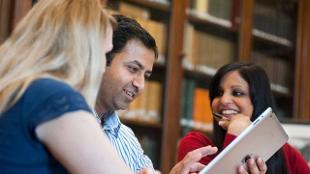 What is the difference between a postgraduate diploma and a master?
Postgraduate diploma: A postgraduate diploma is a popular option for students who do not have the time or finances to embark on a full-time masters course. A student might also take a diploma qualification if the results achieved in the bachelor degree do not meet the entry requirements for a masters course.
Masters: Typically, a masters degree is a one-year course in a subject area you want to specialise in. There are different types of masters courses, such as MA, MSc, MRes, MBA, LLM amongst others.
What are the requirements to study a masters degree?
To be eligible for a masters degree, you must first complete your bachelor studies. Each university has different entry requirements so you should contact your preferred universities before submitting an application to ensure you meet all the academic and English language requirements. You can also find a guide to general entry requirements in the Your Country section.
How do I apply for a masters degree?
In order to apply for a masters degree, you usually need to apply directly to the university via the university's own website, or via a system called UKPASS. All London universities have online application systems for masters courses. This means you complete all your details online and scan and upload any relevant documents such as a copy of your passport and degree certificates.
You can apply to as many universities as you like and applications are usually free. However, remember that many universities receive more applications than they have places. You will increase your chances of acceptance by sending an application which is specific to the course and university you are applying for.
What do I need to include in my masters application?
The university's online application system will tell you exactly what information is required in order to complete your application. The following items are common:
A scan of your passport

A completed masters application form

A personal statement which is specific to the course you are applying for

Scans of your academic qualifications, with certified translations if they are not in English

Reference letters or contact information for your referees

Proof of English language ability
When do I apply for a masters degree?
You should apply for your chosen masters degree as early as possible as it can take some time for the university to make a decision and you will need to allow time to apply for your Tier 4 visa, if required.
Universities usually accept applications up to a year in advance of the course start date. You can apply for a course before you have completed your previous studies in which case you would receive a conditional offer to study at the university. This means you will be accepted as long as you meet the conditions of your offer, e.g. a specific grade at the end of your current course.
Some of the most popular courses have application deadlines. It is therefore important to check this early. There are, however, many masters courses that do not have strict application deadlines.
What are the funding options?
There are three main funding options for masters students:
Self-funded: The majority of students pay their own tuition fees to complete a masters course. You can use the course search to find relevant courses and to see the tuition fees.
University scholarship: Many universities in London offer part or full scholarships for international masters students. Use the scholarships database to see which scholarships are available for masters students.
Other sources of funding: A number of countries operate student load and government funding schemes. Contact your local higher education authority to find out about the funding options in your country.
What next?
Search the course database to see which universities offer masters courses in your preferred subject area.

Register for free and contact your chosen universities with any questions you have.

Check the Tier 4 visa requirements to ensure you are able to apply for a visa to study in the UK.