English language schools in London offer you a wide choice of courses from General English and Academic English, to Exam Preparation and Teacher Training courses.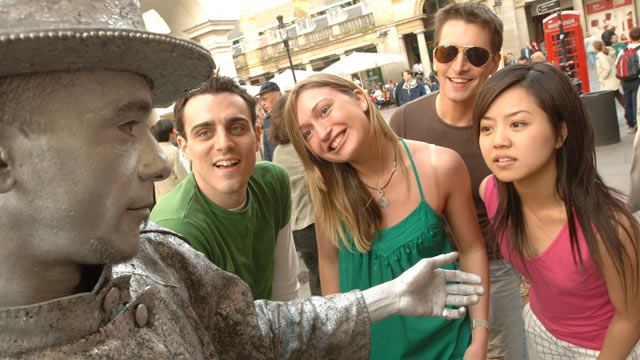 Learn English in the UK and Live like a Londoner
London is a popular city for international students looking to study English Language abroad. The capital of the UK welcomes thousands of students each year, helping them improve their English and giving them an unforgettable life experience. 
Five Reasons to Study English in London
Study in England, the Home of English!
You'll never stop learning in London. Your English will improve every time you meet new people and make new friends. Learning a new language is not just about grammar, exercises &  the words you read in books or hear in the classroom,  it's also about immersing yourself in the culture and having the opportunity to try your new language skills. With over 8 million living in London, you'll meet plenty of people to practise your English with. You'll be talking like a Londoner before you know it!


Wide Choice of English Language Courses
With hundreds of English language courses to choose from, London's English language schools give you the flexibility to study at your own pace. London's schools offer a full range of English language courses including executive training, teacher training, academic preparation, junior summer camps and examinations such as IELTS, Cambridge & PTE.  You can take short courses, intensive courses, academic year courses, vacation courses and one-to-one courses.


Top Quality, Accredited English Language Schools
There are over 50 English language schools and colleges in London. All of the schools on London's official English language school website are accredited by English UK and the British Council. You can study in central London or perhaps outside of the centre where the speed of life is a little slower and accommodation prices lower. No matter what your budget, you will find an English language school to suit you and your needs.


Live and Learn in One of the World's Most Exciting Cities


London is very welcoming and you will quickly be able to practise English outside of the classroom. The city is a centre of culture, history, music, fashion and entertainment. There is plenty for you to enjoy in your spare time thanks to a wide variety of tourist attractions, bars, restaurants, nightclubs, theatres, cinemas, shops, museums and galleries. Better still, you don't need to spend a lot of money as many of our famous attractions are absolutely free!



Study with People from All Over the World
With students from more than 200 nations studying in London, you will have the opportunity to create a global network of friends and future business contacts that will last you a lifetime.