Undergraduate courses are for students who want to study a first degree. Postgraduate courses are for students who already have a first university degree and would like to extend their education.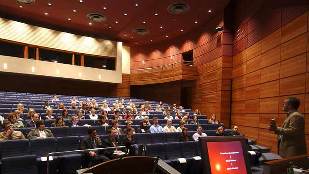 What is an Undergraduate Course?
Undergraduate students study Bachelor's degree programmes that normally last for three or four years. Many courses offer a mix of academic and career-based study. 
In London you can enjoy world-class teaching, together with business and industry links that will give you work experience.
Find undergraduate courses in London
What is a Postgraduate Course?
If you have already got your first degree then a postgraduate course is for you. Postgraduate courses in London include Master's (MSc and MA), MBAs and PhDs. 
You will specialise in your subject with help from world-class tutors and research facilities.
Find postgraduate courses in London
What is a Foundation Course?
The local high school certificate from some countries is not accepted for entry into a Bachelor degree in the UK. Many universities offer a Foundation course which normally lasts one year and enables you to progress to the Bachelor degree. If you are unsure whether you would need to take a Foundation course, please contact your preferred universities for advice.
Student Advice
Study a course that offers you a work placement with one of London's top ranked companies to gain valuable work experience – perfect for your CV.
Learn more about the UK education system with Prepare for Success, an interactive website for international students who want to come to the UK to study in further or higher education.