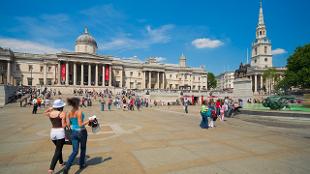 Universities in London offer a number of exciting summer school courses. A Summer School is a short-term course lasting from 1 week to 2 months, depending on the course you choose.
Summer Schools provide an excellent opportunity to experience what it is like to be a student at a London university. You can choose from a number of academic courses which will allow you to gain valuable international academic experience. And there will, of course, be plenty of opportunities to get out in London and experience all the city has to offer.
There are two types of academic Summer Schools:
Pre-University Summer School
This type of Summer School is designed for students who are still at school. A pre-university summer school provides an ideal opportunity to experience university life before you have to make a decision about where to apply for your degree studies.
The timetable includes academic and social activities, and students are looked after by university staff and students throughout the course.
Summer School for university students & graduates
There are many Summer School options for students who are already studying at university level or have already graduated. Some of these Summer Schools may also accept students who are about to start their university studies. There are a wide number of Summer School courses available in London which integrate academic studies with opportunities to visit industry-related businesses and institutions in and around London. Courses can often be taken for credit towards degrees at your home institution.
List of London universities offering Summer Schools in 2018
A number of London universities offer Summer Schools. As with your degree choice, you should look carefully at the subjects on offer and the extra-curricular activities offered as part of the Summer School. Here are some examples of popular options at universities in London:
The Summer School will focus on contemporary architecture. The course presents a challenging programme of design studios, field study, seminars and lectures and is open to university students, graduates and professionals. Find out more here.
Birkbeck, University of London
Run by the Birkbeck Institute for the Humanities, the London Critical Theory Summer School enables graduate students and academics to engage in a two-week course with acclaimed critical thinkers. Applicants should be currently carrying out, or have carried out, graduate research. Find out more here.
The Cass London Summer School offers courses in key business disciplines such as Finance, Accounting and Risk. The courses are open to current undergraduate students and graduates of any discipline. Find out more here.
The Summer School in Art History offers 32 different week-long art history courses focusing on specific themes and covering historical periods from late antiquity to the present day. Participants must be aged 18 or above. Find out more here.
Guildhall School of Music & Drama
A wide range of summer school options are available in Drama, Music and Technical Theatre. Courses are available for students who are still in school, as well as university level students and professionals. Find out more here.
Goldsmiths, University of London
The 4-week summer school is your chance to study at one of the UK's top creative universities. You'll take part in lectures on contemporary art, politics and international relations and English language taught by Goldsmiths academics. Find out more here.
The Fashion School at Istituto Marangoni offers a variety of courses in the areas of fashion design, fashion styling and fashion business. There are a number of exciting 3-week courses taking place during the summer. Find out more here.
King's offers two types of summer schools, one for current university students and a pre-university summer school for 16 – 18 year olds. Courses are available in the fields of business, engineering, governance, health, ancient languages, culture and law. Find out more here.
Kingston University offers a 4 week accredited summer school with a number of courses available in the fields of art, architecture, culture, business and literature. The courses are designed for current university students and include a mixture of lectures and field trips. The university also offers a 2 week summer school with English language option which includes introductory classes in international business, entrepreneurship, fashion, creative writing and more. Find out more here.
The Entrepreneurship Summer School gives you the chance to assess and shape your business opportunity in a practical way. The course is designed for individuals who want to research the feasibility of a new business idea. Find out more here.
London School of Economics & Political Science
LSE Summer School is the largest of its kind in Europe and is also one of the most well-established, having first launched in 1989.  The programme offers over 80 three-week courses in Accounting, Finance, Law, Economics, Business and International Relations. All courses are taught by LSE's world-renowned faculty and take place on its campus in the heart of Central London. LSE also runs an Executive Summer School, Methods Summer Programme and Summer Languages Programme Find out more here.
London School of Hygiene & Tropical Medicine
A number of short-courses, lasting from one day to three months, are available. Students can choose from a number of specialised topics in a broad range of health and global health fields. Find out more here.
The Summer School at LSBU gives you the chance to gain academic credits by studying exciting modules delivered by first class academics. You also have the opportunity to take an internship as part of this summer school. A shorter, 4-week summer school is also available without the internship opportunity. Find out more here.
Queen Mary University of London
The QMUL Summer School offers you the opportunity to discover what it's like to study at a top British university, while living in one of the coolest parts of London. A wide range of courses are on offer, from art and humanities to business, law and sciences. Find out more here.
Regent's intensive six-week summer programmes offer a unique learning experience in the fields of Liberal Arts, Fashion, Business and Creative Industries. Find out more here.
Rose Bruford College of Theatre & Performance
The two-week Acting Summer School offers classes in movement, voice and general acting as well as special sessions focussed on audition technique, musical theatre and ensemble work. Applications are welcome from those aged 18+. Find out more here.
Royal Central School of Speech and Drama
The School offers a number of short summer courses in drama and voice. Anyone with an interest in these areas is welcome to apply. A Youth Summer School for 6 – 17 year olds is also on offer for younger students who are considering applying for a drama degree at university. Find out more here.
A number of one to three week workshops are offered by the College's world-class faculty. Courses are offered in art, design, architecture, fashion accessories, screen printing, glass and communication. Find out more here.
The Pre-Vet Summer School is ideal for students who are considering a career in veterinary medicine or biological science. Students will be able to gain veterinary experience in animal hospitals and research facilities. Applicants aged 16+ can apply for the course. Find out more here.
The Institutes at the School of Advanced Study offer a range of academically challenging summer schools and short courses that are taught by distinguished scholars. Find out more here.
A wide variety of courses are on offer, varying in length and structure. Students can choose from purely academic courses or a mix of academic and English language courses. To apply, students will need to have graduated from High School, but in exceptional circumstances younger students may be considered. Find out more here.
St. George's, University of London
St. Georges, University of London, will be running a summer school in 2018. More details will be added in the coming weeks.
St Mary's University, Twickenham
The St Mary's Shakespeare Summer School explores the work of the world's greatest playwright in the city where he made his name: London. The majority of the 3-week programme will be spent working with distinguished Shakespearean actors and directors, exploring his work in performance. Find out more here.
Trinity Laban Conservatoire of Music and Dance
Trinity Laban offers a choice of summer schools in music, musical theatre and dance every year in order to provide applicants with a rich and varied programme of intensive training in their chosen art form. Find out more here.
University College London (UCL)
UCL's International Summer School for Undergraduates offers a large variety of modules which are taught by UCL academics on the Bloomsbury campus and include lectures, seminars, group work and visits to areas of interest in and around London. Accommodation is available within walking distance of UCL and a varied programme of social events is on offer. Find out more here.
UCL also offers an English Language Summer School which provides an opportunity for international students to receive high-quality English language tuition and cultural experiences. These courses are for university students who are non-native English speakers with specific interests in culture and communications or who study English Language as part of their degree. Find out more here.
The International Summer School offers a range of courses in the areas of fashion, architecture, business and communication, digital start-ups and sustainability. Most of the courses do not require prior knowledge of the subject area but applicants should be current undergraduate students. Find out more here.
The summer school offers a number of 3-week courses in the areas of English, humanities and psychology, amongst others. Students can apply to study one course over 3 weeks or two courses over 6 weeks. Applicants should be aged 18+ and have completed high school. Find out more here.
University of the Arts London (UAL)
Europe's largest specialist art and design university offers a number of different summer schools across the six colleges of the University. The courses provide an intensive experience of practical projects, tutorials and workshops, with many featuring visits to places of interest in London and beyond. Find out more here.
The summer school offers a wide variety of courses in the fields of English language, liberal arts, law, media and business. The 3-week courses are designed for students who have finished high school or are already at university. Find out more here.
Next steps
Click on the University name to read more about the university you will be studying at.
Click on 'Find out more here' for more information on the summer schools you are interested in.
Ask your favourite universities questions by clicking on 'contact' on the university profiles.